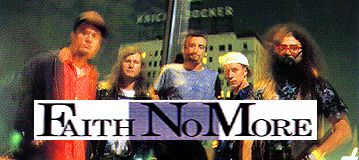 VOLUME 1 IS NOW AVAILABLE AT ALL LOCAL RECORD STORES AND THROUGH CDNOW and AMAZON.
TENTATIVE RELEASE - VOLUME 2: OCTOBER 2002
TRIBUTE OF THE YEAR - a 2 - volume compilation set being released by LEGION PRODUCTIONS and INVISIBLE RECORDS paying tribute to Faith No More. These compilations will include bands from all over the world.
This webpage is designed to get information about the bands on the compilation, about Faith No More songs in general, and updates on the progress of the compilation.
Demos are no longer being accepted for consideration. The bands confirmed on the BANDS portion of this website make up the final list and will appear on the tribute album. Appologies to those who didn't submit in time.
Please refer to the PROJECT NEWS page for news and updates.
For more information e-mail Legion Productions, or visit the INVISIBLE RECORDS website.
Any questions or comments about the website, please e-mail the Webkitten.